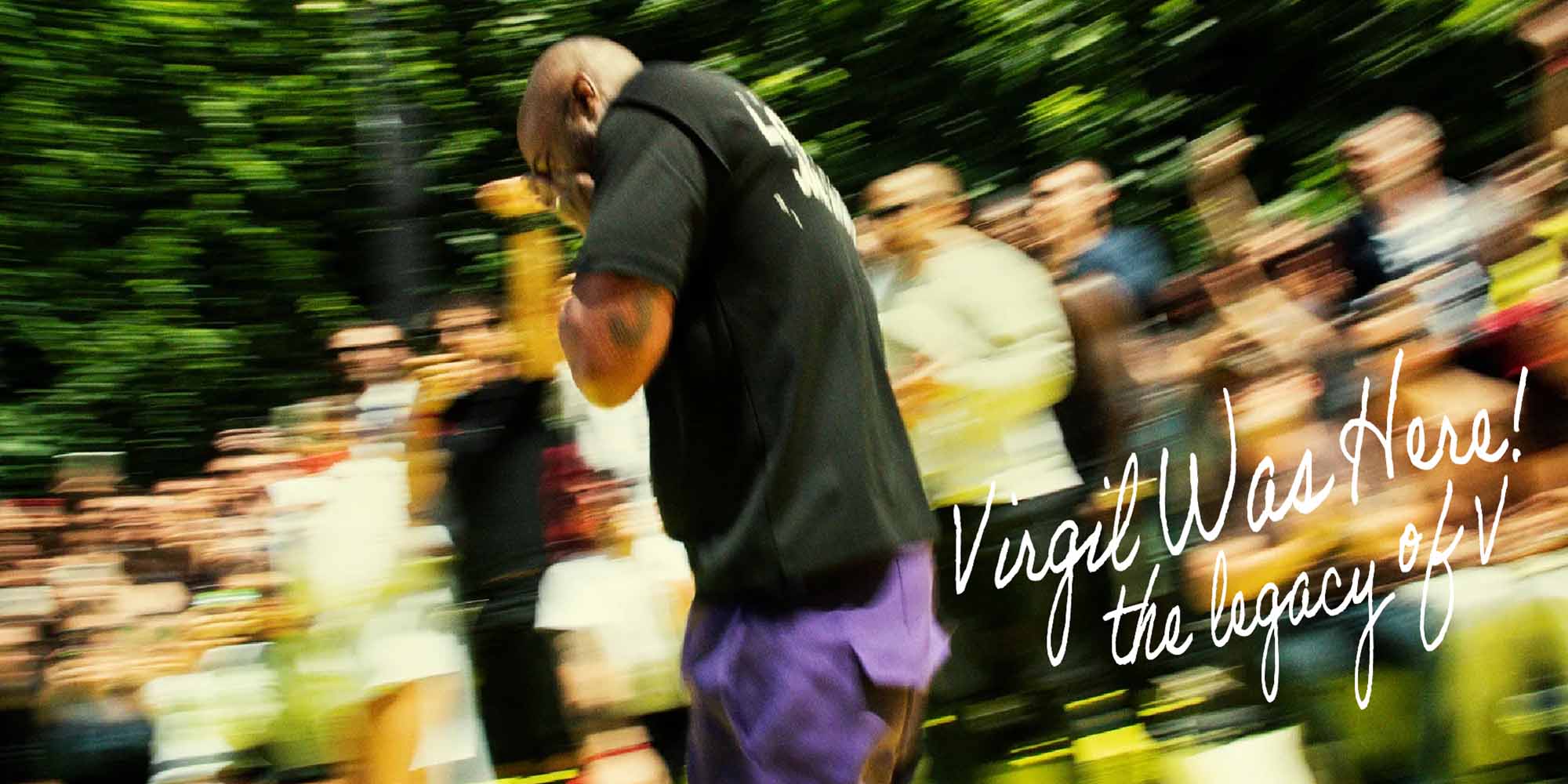 VIRGIL WAS HERE! THE LEGACY OF V
After privately battling cardiac angiosarcoma, on November 28th 2021 the world unfortunately lost Virgil Abloh at the age of 41. Virgil's curiosity within the fashion, sneaker & art world pushed boundaries and created waves which will last forever. From his beginnings as an intern at Fendi to being named the artistic director at Louis Vuitton, his influence spanned across many platforms which made him grow into a creative mogul as well as an inspiring role model for many people. Today as we celebrate his birthday, we reflect on the legacy of the late, great Virgil Abloh.
Born on September 30th, 1980, in the outskirts of Chicago, Abloh was raised in an immigrant family hailing from Ghana. Shortly after graduating from the University of Wisconsin in civil engineering, he would return to the Illinois Institute of Technology to complete a masters degree in architecture. During his time in school, Virgil would meet with John Monopoly who served as Kanye West's manager during the early 2000s to discuss his potential future of working with the artist and his future close friend. Virgil credits his love for architecture to be the gateway which led him into fashion. 
Years later, Abloh and Ye would soon both become interns for the Italian fashion house, Fendi. Michael Burke, then CEO of Fendi, would describe their workflow as refreshing and "disruptive in the best way." After getting their first taste of European fashion, Ye and Abloh would soon be turning heads alongside their friends Don C, Taz Arnold, Chris Julian and Fonzworth Bentley at the CDG show at the 2009 Paris Fashion Week. Tommy Ton, a Canadian street style photographer would capture a now iconic image of the group outside the show wearing what was then considered to be outlandish clothing but is now looked at as revolutionary and outside of the box in comparison to what was on trend. 
Continuing their close friendship in 2010, Ye would appoint Abloh as the creative director of DONDA, which was and currently is his creative agency. As he was blossoming into one of the most accoladed creatives in the industry, Abloh would soon break through to the mainstream market with the help from Jay Z, and once again Ye. Watch the Throne, an album which is historic in almost every aspect including records, art and the inclusion of many notable artists, one being Abloh who artistically directed the project. This would soon be the start of Abloh's creative direction within music as he would work on projects such as 'My Beautiful Dark Twisted Fantasy' & 'YEEZUS' by Ye, 'WZRD' by Kid Cudi, 'Long.Live.A$AP' by A$AP Rocky and finally 'Luv is Rage 2' by Lil Uzi Vert. 
Stepping into the world of fashion for the first time since his internship at Fendi, Abloh would introduce his New York based clothing brand 'Pyrex Vision'. The brand utilized multiple screen printed Ralph Lauren flannels which displayed 'Pyrex Vision' and the number 23 nodding  to his childhood hero, Michael Jordan. Fearing that the brand would soon be on the receiving end of a cease and desist from the glassware brand 'Pyrex,' Abloh would consult with his friends on a new direction. After discussing with A$AP Mob members, A$AP Twelvyy was actually the one who came up with the name of Abloh's new creative venture, OFF-WHITE. A$AP Rocky would confirm this by sharing that "Twelvyy said "well you know what they only use Pyrex for, they use it to cook off-white, people don't know they wearing something called crack, they might as well say 'crack', it's called off-white cus thats what you cook in Pyrex".
In 2013, the newly founded Milan based brand OFF-WHITE would officially launch. The brand would originally reutilize the designs of former brand 'Pyrex Vision' but with OFF-WHITE branding. As expected, the Abloh led brand would start to catch fire. Beyonce would soon be seen wearing the highly popular OFF-WHITE 'Nebraska' crewneck a year after the designer would launch its inaugural womenswear line. His early achievements and popularity would earn him a nomination for the LVMH prize. 
Although the already established designer was steadily growing his brand, in 2017, it would drastically incline with the introduction of multiple historic creative projects. To start, Abloh would collaboratively release the art project 'AMERICA TOO' alongside Japanese contemporary artist Takashi Murakami. The collection featured large sculptures and layered paintings inspired by Abloh and Murakami's love for western art, cinema and hip-hop. This project in hindsight was already large enough for any creative designer, but Abloh's luck would soon revisit him when he was granted the opportunity to work with Nike later that year. Abloh would recreate 10 different variations of iconic Nike sneakers with an unfinished design. The collection would be titled 'THE TEN' and would consist of the Air Jordan 1, Nike Zoom Vaporfly, Nike Blazer, Nike Air VaporMax, Nike Air Max 90, Nike React Hyperdunk 2017, Nike Air Max 97, Nike Air Presto, Nike Air Force 1 and the Converse Chuck Taylor. The release would soon become one of the most sought after drops of the year and sneakers from the collection still remain as some of the most valuable on the market. 
Following the success of his Nike collaboration, Abloh would soon be appointed as the artistic director of menswear for the French fashion house Louis Vuitton. Abloh would go on to showcase his first collection at the place which started it all for him, Paris Fashion Week. The 'V: as in Virgil' Show would be inspired by the Wizard of Oz in which Abloh sees himself and fellow friends walking down this rainbow road towards success. The show would come full circle as he would share a moment with Ye at the end which really made this project even more monumental. As the success of Louis Vuitton and Abloh would grow, many wouldn't notice or expect Abloh's progress to halt
Unfortunately on November 28th, 2021 it was announced that Abloh had passed away after his two year battle with a rare form of cancer. Abloh's infinite curiosity and innovative mind allowed him to continue to work effortlessly on his many projects throughout his last years. Virgil Abloh's dedication to his craft and the passion he shared while doing it truly makes him an inspiration to all, proving that Virgil was truly here.
Happy Birthday to Virgil Abloh.
Leave a comment